My work on Deviant Art – Gothscifigirl's Page
This site is always a work in process as I learn more about making websites. Until I've acquired the forbidden knowledge, please visit my etsy shop at Pigtails 'N Combat Boots (the whole name had too many letters so I had to improvise the "and").
Since this page has all my links on it, I'm going to keep it as my permanent landing page for pigtailsandcombatboots.com. For updates to this blog, check the list of blog posts in the column on the left. The newest posts will be at the top.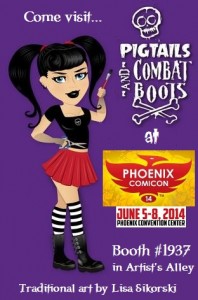 I'm going to be at Phoenix Comicon 2014 selling my art and other wares. That will also be the time of the inauguration of my etsy shop.
If you've arrived here via contact at PHXCC, welcome! Hopefully I survived since it's my first time doing this and I have absolutely no clue. As I expand my knowledge on websites, this will eventually be my main hub and shop. All updates and random stuff I feel like posting will be here.
Pic from Phoenix Comicon –